Jamie Carragher and Gary Neville know all about playing in Liverpool v Manchester United matches.
The Sky Sports pundits have made a combined 59 appearances in this fixture over the years, so who better to tell us what to expect from the Red Monday showdown, live on Sky Sports 1HD?
Neville and Carragher will be part of our team at Anfield on Monday night, alongside Ryan Giggs, and ahead of the match they have looked at where it could be won and the title credentials of the two teams this season…
Manchester United's title credentials
NEVILLE:
It's a big moment in the season for United. It feels like a bigger game for United than it does for Liverpool, which sounds like a cliché, but after a few difficult results like the derby against Manchester City, Watford away and Stoke at home, if you don't get a result at Anfield then you start looking at that top four again. I tipped United to win the title a month or so ago, but to lose on Monday would be a big moment. If they were to go there and win I would still think they are in there with a chance of the title.
CARRAGHER:
I agree about United if they were to lose the game. They haven't had the toughest of starts, on paper, and up until now they've only played one so-called heavyweight who I think will challenge for the title - Manchester City - and they lost that at home. If you lose another one to another big title rival or top-four rival you start asking questions. It's still early, but you could be eight or nine points behind.
Liverpool's title credentials
NEVILLE:
Liverpool worry me a little bit this season. There's no Champions League, no Europa League and they've got fresh legs. Playing the way they play, I think it would be a problem for them if they were in Europe and having to repeat it every three or four days. But the fact it's nearly one game per week is a massive advantage.
CARRAGHER:
It probably feels like that Liverpool are more likely to win title than United now, because of how Liverpool have started the season, but it was only two or three games ago we were saying it was going to be a shoot-out for the league between United and City. I still think United will be right up there come the end of the season, the manager has got great experience of winning the Premier League, so I certainly wouldn't write Manchester United off at such an early stage. I think them, and hopefully Liverpool, will be up there fighting for the title.
How Liverpool can win
NEVILLE:
It feels to me like a middleweight fighting a heavyweight. Liverpool are going to be quicker and sharper, but a lot depends on whether United can get through the first 60 minutes. I always think this Liverpool team can blow you away and it's been like that for a few years now, since when they had Raheem Sterling, Luis Suarez and Daniel Sturridge. If they can get through the first half and the first 15 minutes of the second half then United will win. If they don't handle that first blitz I think they'll have big problems.
CARRAGHER:
What you mention about Liverpool's style, I think Mourinho will be well aware of that. I don't think you can match Liverpool for that when you've got someone like Zlatan Ibrahimovic up front. They haven't got the type of players to do that.
Jose Mourinho's approach
CARRAGHER:
You talk about Sterling, Suarez and that team and look at what Jose Mourinho did when they played Chelsea on Monday Night Football. He played deep and played long. Every throw-in went long, every kick from the goalkeeper went long and he slowed the game down and tried to quieten the crowd. It will be interesting if he uses those tactics. He's come to Manchester United and people have said he's got to, at times, play a different way to what he did at Chelsea. That's something you said isn't it?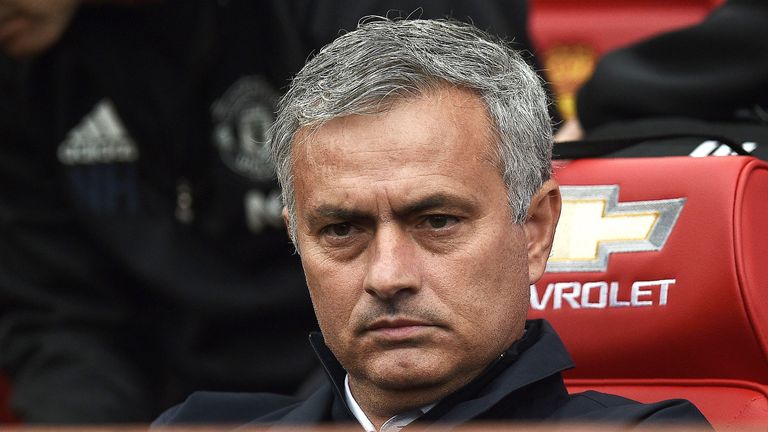 NEVILLE:
Forget style on Monday. I don't think any United fan, me included, are going there wanting United to go out there and think 'let's dominate possession today'. I want them to cope with the first 60 minutes and find a way of dealing with that. You're going to Anfield and you've got to respect that fact. Going long is one way, but I don't think any United fan on Monday night is expecting style or fashion. They are just expecting to get a result. This is a game where you just go and get a result.
Jurgen Klopp's approach
NEVILLE:
Liverpool are going to come out the blocks like greyhounds. When I look at Liverpool, there's only one way of playing with Georginio Wijnaldum, Adam Lallana, Sadio Mane, Roberto Firmino, Philippe Coutinho and Jordan Henderson. The energy is unbelievable. They have speed getting to the ball and the precision on the counter attack when they win the ball back can be devastating. We saw it at Chelsea and at City last season.
CARRAGHER:
You talk about dealing with Liverpool, but there's more teams that play like that now. You look at what Spurs did to Man City. Will that be a problem for Man United going forward this season and in the coming seasons with the way the game is going?
NEVILLE:
I still think strength and power, in the end, will overcome. If you look historically, City teams, Chelsea teams and United teams that have won the league in the last few years or even Leicester last season, they had strength and power. I think it would be a little bit of a game-changer if Liverpool won the league with the players they've got and the back four they've got.
How Man Utd can win
NEVILLE:
The big weakness for Liverpool on Monday is set pieces. If United put the ball in the box around the goalkeeper and the back four there's going to be problems. That's the way Liverpool are at the moment. Even against Arsenal in the first game of the season it was 4-1 and Arsenal made it 4-2 and you could see Jurgen Klopp on the sidelines thinking 'do I quite trust these?' I did think that the last 15 minutes against Chelsea was a big, big moment. To come through it when it was 2-1 was a big moment to give them the confidence that they can actually hold on to a lead. They did it at Arsenal as well, but they still look a little bit weak defensively. It might not play out in the goals they concede, but it feels to me like from 60 minutes to 90 minutes they tire a little bit and dip. That's where it feels like United could get on top.
What can we expect?
CARRAGHER:
It is a big game, with a lot of new players - but it feels like in the Premier League every game is a big game now. This is extra special, under the lights at Anfield, and there's been some great games there, you think of the 3-3 game all that time ago. It will be a great atmosphere, and I think Liverpool will go in confident with the way they're playing.
NEVILLE:
If you handed Jose a draw now - or any United fan - you would take it. That sounds really negative, but the way Liverpool are at the moment then it's about not losing and taking your battles down the road somewhere else.